How did this all happen?
It all started when my youngest son asked if he could make soap for the homeless patrons during our pandemic.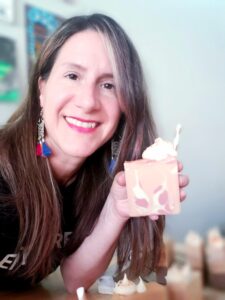 When your 8-year-old has this kind of idea, you don't turn your back on it. My family and friends know my creative side, and with 2020 being a very crazy year, I thought it would be a perfect activity to keep us learning, challenged, and hopefully give back to our world. After creating one batch… I was hooked!
My engineer-minded husband has made amazing soap dishes for me, and my older son is helping me name my soaps and keep inventory.  My tech-pro brother has helped me create this site, and my mom is creating beautiful bath items. It's truly a family affair!
I have learned…that making your own soap is very tricky! It is a lot of SCIENCE..which is right up my alley having been a Forensic Scientist for over 16 years.  There are so many elements when creating soap- water percentages, types of oils, benefits for each ingredient, and temperature requirements. Not to mention the clean up process! I have had many fails, however I learned from them, gained wisdom, and am determined to keep going!
Soap and Skin
Skin is the body's largest organ, providing a flexible barrier and a portal for absorption. It helps maintain our health, yet it is so easily neglected. Have you ever looked on the back of a soap package only to find words you couldn't pronounce? Why use these products on our skin or our family's? What could the effect be over a lifetime?
Typical store bought soaps have Glycerin removed, which modifies the properties of the soap, stripping your skin of it's natural emollients. Glycerin is crucial as it attracts water from the surrounding air to help skin stay hydrated. Store bought soap is made in a much larger scale, using fillers, detergents and many synthetic additives, irritants or even carcinogens. Liquid soap has much more water content, so twice the amount is needed to properly clean your hands, and you will also purchase soap more frequently, contributing to more plastic waste.
My Soaps
My soaps are imperfect- they aren't going to look like they came out of a manufacturing plant.  I create unique, skin- loving soaps in my kitchen, which are hand-poured and mini-batched. Each batch is unique, using a combination of premium oils, and raw luxurious butters.  I select organic and sustainable products when possible, and my soaps are vegan and natural.
I enjoy using different clays, micas, essential oils, and fragrance oils. My soap retains the naturally formed Glycerin molecules which combine with the natural benefits of the ingredients in each bar. My soaps are gluten, paraben, and pthalate FREE. They will change your skin!
My intention is to ensure that each bar of soap will be 100 times more amazing on your skin than any bar you would pick up at the grocery store.
Giving Back
Now, the most important aspect of making handmade soap- giving back to those in need! When your child wants to donate to charity, you sure make it happen. Scheduled charitable donations will be organized through the purchase of soap, and each time, I will allow my kids to decide where they will go. My hope is to inspire them to always give back to the world. One day, they may be the one on the receiving end.
Waste Not
Another interesting aspect of soap making, is how much waste is generated with liquid soap or the packaging used for typical soap purchased at stores. Swapping to natural soap helps reduce the amount of plastic that ends up in our oceans. Just last year, 10 million tons were discarded. Sad! With it taking 450 years for one plastic bottle to decompose, it really got me thinking.  My soaps will be delivered to you with eco-friendly packaging to assist in reducing our environmental footprint.